I shall produce a personal E-Book to deliver your personal Psychic Tarot Card Reading to you. Every Tarot reading will help enlighten you in your life using a specific life area spread or general outlook.
Alll Psychic Tarot Card Reading E-Books sent direct to your personal email are designed unique to you so that they can be kept forever and referred back to as and when you so wish.  This is ideal when a Tarot reading is based on the future, what is to come or given as a gift to someone you love. 
If you are drawn to a Psychic Tarot Card Reading I believe you already have a higher state of consciousness and strong intuitive mind that can be travelled through via the Tarot. Let me perform a Psychic Tarot Card Reading to help you glimpse what pathways lie ahead.. (More questions?)
View the One Card Sample Psychic Tarot Card Reading below for a glimpse of what to expect from your reading...blurred for privacy reasons.
Ideal as a Birthday Gift or to print out and read in your own time relaxing the Tarot e-Book will certainly lift your spirits and are lovely to keep.  I also perform Psychic Tarot Card Readings for your Baby to see how they will grow up and possible marriage connections, grandchildren or anything else you wish.  What a wonderful gift to present your grown Baby in years to come.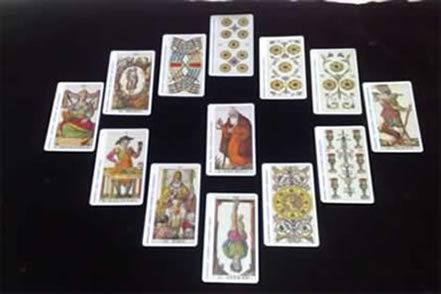 Sample Calendar Spread
For Calendar spreads you most certainly need to keep the reading for it covers the whole year of 12 months and a significator card about the theme and yourself.  I still have hundred's of Tarot readings I gaze back at from time to time... very exciting to come across when you least expect it.  I put a lot of time into the Tarot E-Books because I know how important it is to refer back and see the results immerge before your very eyes!
I am ever improving the Tarot e-Book and very much enjoy personalising them for each and every one of you.  No two are the same.  You may even have a photo of your Pet if you requested a reading on your dog, cat, or other creature in your family!  Many of my Psychic Tarot Card Readings revolve around Love or Marriage and are designed with the enquirer's thoughts in mind and what they specifically wish answered.  For the more eclectic Psychic Tarot Card Readings such as The Bohemian... very colourful and enlightening to many. and The Tree of Life you will find it inspiring and illuminating... opening up new doorways into your life. Self Psychic Tarot Card Readings can help develop your sense's and improve your general wellbeing.
Thank you for viewing the example Psychic Tarot Card Reading page, why not now browse my Psychic Tarot Card Readings here.