LOVE TAROT READINGS - When Will I Find Love? When Will I Marry? Will my Ex come back? Love Forecast for the Year.
A Love Tarot Reading can provide light on your love life and reveal hidden complications or positivity that may otherwise be hidden from you. I can ask the questions any question that is specific to you or simply choose a reading to provide you with guidance and help you on your path to meeting the right person. For a Tarot Card Reading on Love then this is the place to be. Find answers using the spreads When Will I Find love? When Will I Marry? Will My Ex come back? Or choose a Love Forecast for the year. Overall, I will provide as much information and be as accurate as I can with Yes No Tarot Card Questions.
Will We Get Back Together?
From: £5.00
If you are unsure of which Love Tarot Card Reading to choose please dofeel free to email me for further guidance or for a bespoke Tarot Card Reading.
Featured Love Tarot Reading;
LOVE TAROT READING CALENDAR SPREAD
All the pathways that lie ahead for you with the Love Tarot Reading Calendar Spread and your year in Love will be closely and intuitively inspected with a large spread for the year ahead by Tilly Tarot.
Starting with the current month for one year a set of love predictions for what lies ahead in your life path.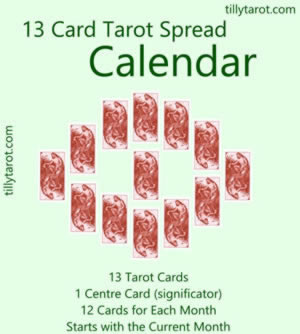 In-depth month by month description using 12 cards plus a centre card for the theme of the year.
Reveal what lies ahead in your life on a love, romance and high spiritual level...unmissable and a great reading to begin your year... at any time!
Price: £45.00
BACK TO ALL LOVE TAROT READINGS
With a love reading you can find people who mean more than friends.  Single ladies and single men, find your soulmate using the ancient form of divination already proven by many of my clients.  True love can be yours.  Tilly is a third generation Psychic and gifted Empath and specialises in lonely hearts using Tarot Cards utilising techniques such as horoscopes.  A horoscope can really help find love and predict when you will meet your soul mate. 
| | | |
| --- | --- | --- |
| SELF | LOVE | CAREER |
|   Destiny – Pathway – Three Mysteries – Calendar –Tree of Life – Bohemian – Karma – Past Present Future – Specific Self Question – Who Is My Spirit Guide? |   Is This True Love?– Love Cheats – Love Calendar Spread – Specific Love Question –When Will I Find Love – Love Bottom Line – Valentine's Day – Marriage Tarot – Love & Passion – Who Is My Soul Mate?  – Will We Get Back Together | Careers Advice, Which Career, Future Job Outlook, Career Calendar Spread, Change of Career Direction, Your Top Work Skills, Higher Education, Business Decision Timing, Specific Questions.   |
| SEASONAL | GENERAL | FAMILY |
|  Spring Equinox – Summer Solstice – Autumn Equinox – Mother's Day |  One Card Per Question – First Time Introductory Tarot Reading – Horseshoe Tarot Spread – Dream Meanings Tarot Reading – Daily Tarot Reading – Week Ahead Tarot Reading – Month Ahead Tarot Reading – Calendar – Tree of Life – | Baby, Family Affairs, Family Calendar, Pet,Any Question, X Tarot   |
| PETS | MONEY | CALENDAR |
|  Pet Tarot Readings | Financial Guidance –  Property Tarot Reading | General Years Forecast Calendar Tarot Reading  |